Minoru Nojima <pianist>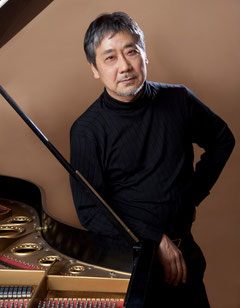 Japanese pianist Minoru Nojima made his concert debut with the NHK Symphony Orchestra at the age of ten.  He later attended the Toho School of Music in Tokyo, and while still a student, performed with both the Tokyo Philharmonic and Japan Philharmonic Orchestras.

In 1966, Mr. Nojima was invited to the Moscow Conservatory of Music by the Soviet Cultural Affairs Agency to study under renowned pianist Lev Oborin.  During this time he gave recitals in various cities, including Moscow and Leningrad.  In 1969, he won second prize at the Third Van Cliburn International Piano Competition, and the following year made his Carnegie Hall debut.

He has since performed throughout the United States, Europe, and Asia with many major orchestras, chamber ensembles, and in recital.  He has promoted a wide range of works by Japanese composers, including performances of Teizo Matsumura's Piano Concerto No. 2 in Moscow, in London with the BBC Orchestra, and in New York and Paris.  Most recently, he has performed worldwide as a soloist with the Bayerische Philharmonie, Montréal Symphony, and the National Symphony Orchestra (Washington, D.C.), to name a few.  He has collaborated with various conductors, among them, Wolfgang Sawallisch, Seiji Ozawa, Valery Gergiev, Paavo Jarvi, and Charles Dutoit.
Shortly after his Carnegie Hall debut, Mr. Nojima released recordings of Brahms and Schumann variations and a premiere recording of Mamiya's Second Piano Concerto and Second Piano Sonata on the Toshiba/EMI label.  He recorded Matsumura's first and second piano concerti, which were dedicated to Mr. Nojima, on RCA Victor.  Other releases include the Brahms Piano Quintet on the CBS/Sony label and works by Liszt and Ravel on Reference Recordings.
Minoru Nojima currently serves as president of the Tokyo College of Music, professor of piano at the Toho Gakuen School of Music, and chairperson for the Sendai International Music Competition.  In 2006, the Minoru Nojima Yokosuka Piano Competition was established to further the professional development of Japanese pianists.
Mr. Nojima also acts as adjudicator for the Van Cliburn International Piano Competition, the Queen Elisabeth International Music Competition, the Sendai International Music Competition, Beethoven International Piano Competition, William Kapell International Piano Competition, the Richter International Piano Competition, and many others.
(as of Feb 2013)